DESIGNED BY THE HEART 4 DA SOUL
Our brand was created as a space to explore and create. It has been and continues to be a fascinating journey of discovering talents and perpetuating traditions.
4 DA SOUL proudly continues honoring the art and culture of Ecuador by creating unique, timeless, and colorful objects to highlight spaces.
Each rug narrates an unrepeatable story.
I invite you to live the experience of our textures.
Alexa Altgelt
Creative Director.
We are small friendly run business of manufacturing custom made handmade carpets and rugs for home, offices and hotels .Modern or traditional, we offer all type of customized services.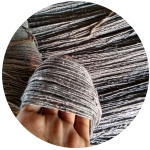 We use pure natural fibers of plant like jute, hemp, sisal for Nature's lover. We use imported woolen fibers like pure natural New Zealand wool, semi worsted, and handspun wools for luxurious cozy rugs projects.
We use Real silk and Art silk ( viscose, bamboo silk,, tencel etc) for our clients who want some shiner and silky touch with their rugs.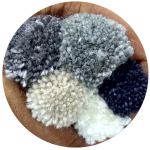 For color system we use PANTONE and ARS color Boxes, this allows us to communicate exact colors with our manufacturers. You can also choose exact shades in person and we can communicate accurately the color and tone that you required.
Our wool color box has 600 poms of wool in different shades allowing you to closely match almost any color.
Our manufacturing partners have teams of weavers, designers and artisan with vast experience,. Our manufacturer partners have always been dedicated to the task of creating exquisite rug masterpieces.
We have custom looms at our manufacturing unit which fulfills almost any custom size as per our client's desire.
Having created Handmade Rugs & carpets for some of finest hotels in Saudi Arabia, we understand the important once of speed and efficiency. We offer complete turnkey services for every project, however large or small.
By collaborating with interior designers, Architects or working directly with The end client, we often create a scheme that runs throughout a property. Utilizing an array of colors, fibers and technique we will ensure you achieve a beautiful effortless flow.
In high end customer – facing space such a conferencing suites, executive lounges and office receptions, the details matters. That's way our bespoke concept rugs and carpets are used to enhance clients corporate interior,